Razor Sharp
Blades peel and noodle effortlessly making healthy cooking convenient and easy.
All Vegetables
Works on vegetables of all shapes and sizes, no preparation required.
Compact Design
Stores away conveniently in one piece ready for your next healthy meal.
Zoodle Chef: Convenient & Healthy
Our multi-functional Zoodle Chef will peel or noodle your vegetables fast and easy. Our blades are razor-sharp and will peel with ease. Save time and energy. Turn your vegetables into noodles in seconds.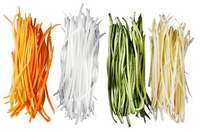 Check out our favorite recipes