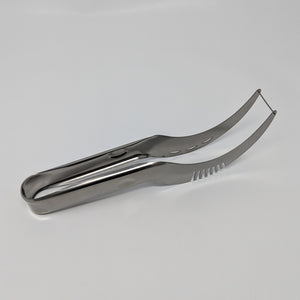 DURABLE STAINLESS STEEL BLADES: Easily slices through watermelons, cantaloupes and honeydews without bruising the fruit. Much quicker than using a knife.

SAFETY FIRST: Designed to cut melons, not fingers. The thickly honed edges make this watermelon cutter safe enough for children to use. The reliable tongs make serving a breeze.

CREATE A MASTERPIECE: This watermelon slicer expertly portions and removes each slice from the rind, leaving you with a natural bowl to serve your fruit salad or melon delight. This 3 in 1 Accessory does it all: Slices, Cores, and Serves.

ABSOLUTELY NO STICKY MESS: Juices stay in the rind, not on your hands and counter-top. And this handy tool is Dishwasher Safe.